Erica Schwartz
Erica is currently the Assistant Dean of Students for Greek Affairs at the University of Louisiana at Lafayette. She has an undergraduate degree in Psychology from Bowling Green State University in Ohio, where she served as Delta Gamma Fraternity President, as well as Vice President of Recruitment on the Panhellenic Council. She then went on to receive a Masters of Education specializing in College Student Personnel from Ohio University. While at Ohio University, she served as a graduate assistant for both academic advising and Greek Life.
Phone: (337) 482-6267
Email: greek@louisiana.edu
Brandon Palmore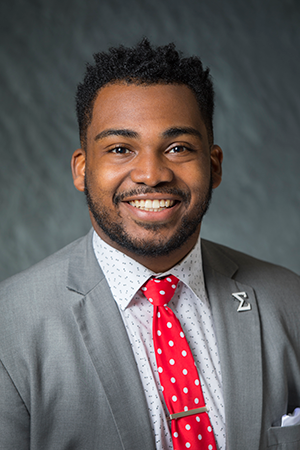 A native of Pasadena, California, Brandon E. Palmore is the Assistant Director of Student Engagement & Leadership, working with UL Lafayette's Fraternity and Sorority Life. Brandon earned his Masters in Higher Education from Texas A&M University - Commerce; he also holds a Bachelor of Science degree in Computer Science from Langston University. Brandon engages both his I.T. background and his Student Development education to empower, inspire, and lead others. As a member of Phi Beta Sigma, he continues working for the betterment of his community by engaging, developing, and supporting the next generation of leaders through courageous dialogue and thought-provoking interactions.
Phone: (337) 482-6268
E-mail: brandon.palmore@louisiana.edu