Faithful unto death.

The Mission of Tri Sigma Sorority
To establish among its members a perpetual bond of friendship, to develop in them strong womanly character, and to impress upon them high standards of conduct.
About Tri Sigma
As women of the first sorority on the campus of the University of Louisiana at Lafayette, the Alpha Mu chapter of Tri Sigma seeks to uphold our five core values of wisdom, power, faith, hope, and love while serving our local and national communities and fostering our powerful bonds of friendship. Our vision as Tri Sigma women is to create a place where our members are provided with exceptional experiences that will empower them to change the world. As it is written in our creed, we strive so that we may become inspired leaders, support causes greater than ourselves, seek wisdom and joy, and live purposeful lives of integrity, faith, empathy, understanding, and love.

Tri Sigma Scholarship Opportunities
The Tri Sigma Foundation offers many scholarships on a yearly basis to its members for both academic purposes and leadership programming. In addition to the sum of more than half a million dollars that the Tri Sigma Foundation has awarded thus far, the Alpha Mu chapter has established a Tri Sigma Endowed Scholarship, which ensures that at least one member of our chapter is awarded a Foundation scholarship each year. For more information, visit https://www.trisigma.org/foundation/scholarship/empowering-achievement/.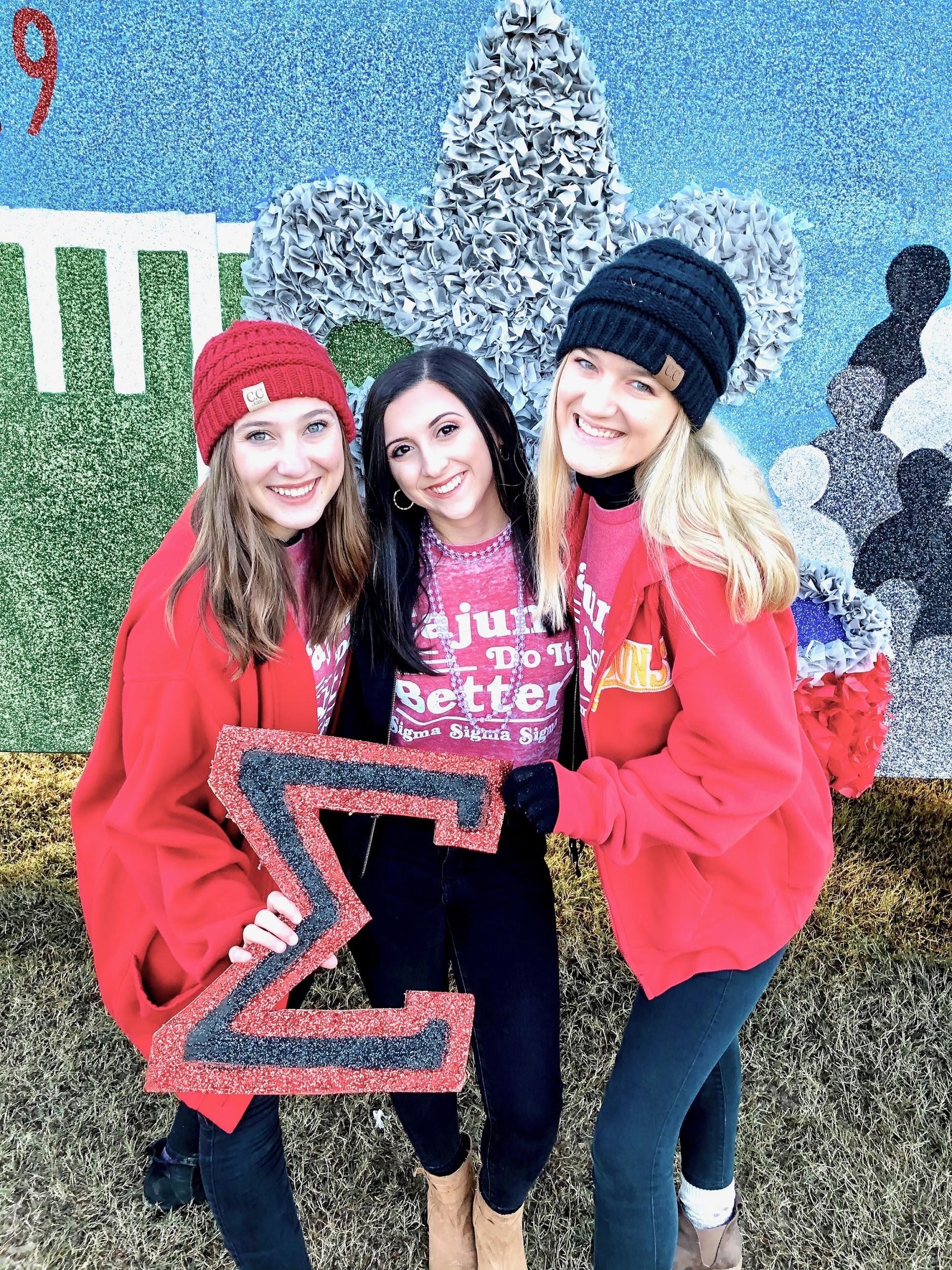 Follow Us!
Instagram and Twitter

Tri Sigma, Alpha Mu chapter: @ultrisigma
Tri Sigma NHQ: @sigmasigmasigmahq (Instagram) and @trisigma (Twitter)
Websites
Tri Sigma, Alpha Mu chapter: http://louisiana.trisigma.org/
Tri Sigma NHQ: https://www.trisigma.org/
Contact Us
Chapter President
Brianna Burns
sssalphamupresident@gmail.com

Chapter Advisor
Lauren Green
lcgreen1749@gmail.com

Recruitment Advisor
Cecilia Fruge
cmtsigma3@gmail.com
Mailing Address

P.O. Box 40142
Lafayette, LA 70504
Chapter Lodge Address

Sigma Sigma Sigma
110 Agnes Roth Lane
Lafayette, LA 70506

ΣΣΣ National Awards
Tri Sigma Chapter of the Year (2019)
Tri Sigma Chapter Advisory Board of the Year (2019)
Tri Sigma Membership Selection Award (2019)
Tri Sigma Most Creative Educational Program (2019, 2018)
Tri Sigma Pillar 4 Accreditation Award (2019, 2018, 2017)
Margaret Freeman Everett Outstanding Senior Award: Miranda Himel (2019)
Outstanding Member Award: Ashlyn Doucet (2019)
Tri Sigma Foundation Scholarship Recipients: Billie Richard, Margaret Shepherd (2018), Ashlyn Doucet, Megan Fowler, Britney Hatfield, Miranda Himel (2019)
Highest Contribution to the Tri Sigma Foundation for (2016-2018 Triennium, 2017)
Highest Contribution to the March of Dimes (2018, 2017)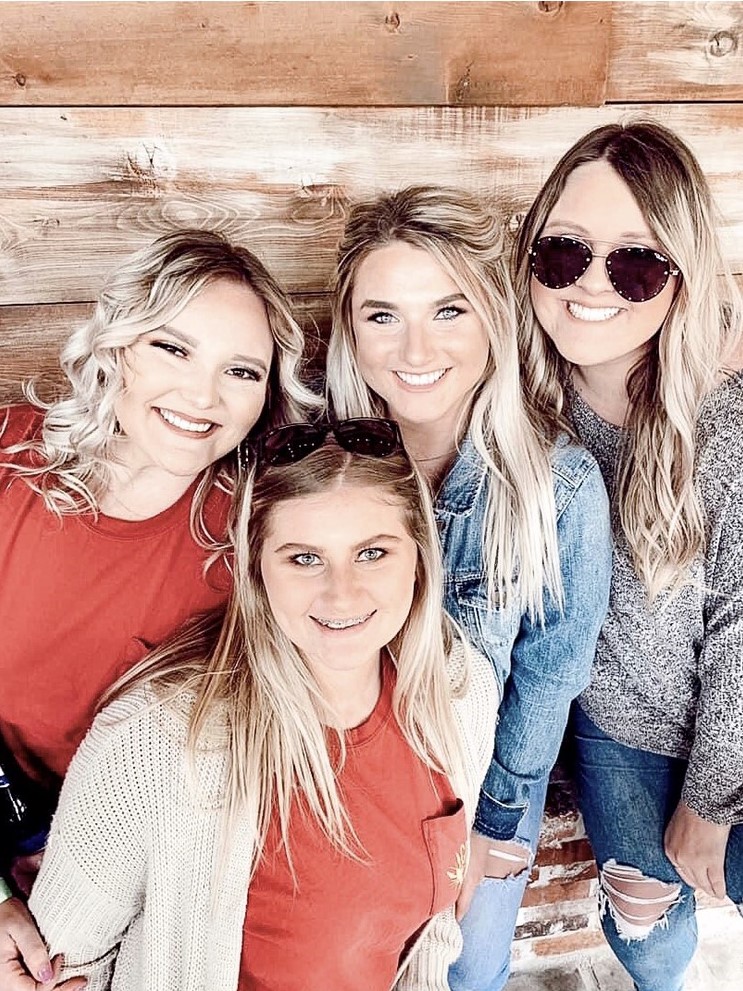 Local Awards
UL Lafayette's Five Star Chapter Award (2020, 2018, 2016)
Overall Homecoming Winner (2020)
Homecoming Week: 2nd Place (2018, 2019)
Spring 2020 Moody College of Business Outstanding Graduate: Miranda Himel
Greek Week: 2nd Place (2019)
UL Lafayette's Four Star Chapter Award (2019, 2017)
UL Lafayette's Outstanding Philanthropy Event (2018)
UL Lafayette's Outstanding Chapter Advisor: Lauren Green (2018)
UL Lafayette's Chapter President of the Year: Jardi Hulin (2017)

Facts about our Chapter
Tri Sigma, chartered in 1931, was the first sorority at the University of Louisiana at Lafayette!
Our open motto is "Faithful Unto Death," which assures our dedication to sisterhood throughout our entire lives.
The week of our Founder's Day, April 20th, has been formally declared Sigma Week by the mayor of Lafayette.
Our Alpha Mu chapter's local philanthropy is the D.R.E.A.M.S. Foundation of Acadiana, an organization founded by one of our very own alumni, and provides education, resources, and extracurricular activities to children and adults with special needs in our very own Lafayette community.
We also support our national philanthropy, The Tri Sigma Foundation. The Foundation has a threefold mission: Learn, Lead, Give. Tri Sigma supports its own members through scholarships and leadership programming as well as supporting hospitals and organizations all over the nation with grants that carry out our philanthropic motto: "Sigma Serves Children."
Alpha Mu has received tens of thousands of dollars in grants from the Foundation for multiple years, and we use that financial support to fund child's play therapy efforts at Our Lady of Lourdes Women's and Children's Hospital in Lafayette.
Tri Sigma also has a national partnership with the March of Dimes, whose mission is to ensure the health of all moms and babies.
This chapter holds community service very close to our hearts.Tri Sigma hosts an annual Dodgeball Tournament and Chili Cook Off to raise money for our philanthropies. In 2019, Alpha Mu raised over $50,000 for different philanthropic organizations. In 2018, our members totaled over 7,200 hours of community service.
Alpha Mu's other events include socials, Formal and Semi-Formal, Crush, Grub, Mother/Daughter Tea, Founder's Day, Family Day, and many more.
Alpha Mu also recognizes the importance of sisterhood and recognition of individual achievement. Our chapter recognizes members on a weekly basis for dedication to their education as well as other outstanding achievements through awards like Sigma Pearl Girl and academic incentives
Recruitment Info
Sigma Sigma Sigma will be participating in UL Lafayette's Panhellenic Council Fall Recruitment! You can sign up fpr Sorority Recruitment 2020 here, or please see the Panhellenic Council page for more information.